Total Market Cap Analysis
Let's first look at what the overall market is doing. As you know, all coin prices are highly correlated with bitcoin's price action and by extension with the whole market. Every time we see a surge or plunge of the total market cap, it spills over to the individual coins and their prices.
Market has lost $22 billion in a day and is currently testing a crucial Fib786 height at $241 billion after invalidating the uptrend line it formed and respected since end April. If the market loses this battle, a drop to support at $219 billion is likely.
This would take ETH and all other coins down with it and pretty much invalidate any isolated charting on specific pairs. Keep this in mind when entering positions on ETH or any other coin.
4H ETHBTC
ETHBTC is going sideways for a second week now. ETH is mostly ranging between two Fib heights: Fib236 at 0.0324 and Fib382 at 0.0309 BTC with occasional penetration up or down.
The breakout level is the most recent high and resistance at 0.0348 BTC. Projected target by Fib extension (trend-based) is at 0.0398 BTC.
Breakdown level is the most recent bottom and MA200 on the 4 hourly timeframe – at 0.0297 BTC. If the market keeps sloping down, ETH might very well touch the 0.026-0.028 BTC zone.
Daily ETHBTC
The potential bullish pennant that could have been drawn on the ETHBTC chart last time, is now shaping up to be a descending triangle pattern, which is not a good news for holders as this is usually considered a bearish pattern. So trade cautiously until we are in the clear with this pattern.
This most recent pullback was a hefty correction that touched and bounced off the Fib50 zone. It is important for ETH's bullish trend to keep this zone as its floor. Otherwise, we might see a stumble back to Fib786 at 0.0268BTC.
Right now it seems that ETH is done with the correction and entered a consolidation on the Fib236 level.
4H ETHUSD
After ETH smashed lower resistances and reached the bigger obstacle in the form of $274-278 level it stalled and suffered a heavier than expected pullback. It bounced back from the $231-235 zone (Fib786) and mounted another attack but got stopped at $260. It slowly dwindled down to the $249. A bitcoin rally which saw Ethereum holding its ground against BTC lifted ETH price to $290 at one point.
However, ETH failed to establish itself on this height and quickly tumbled down to even touch the Fib786 at $237 before bouncing back up to the $269, nearing the crucial resistance at $279. A market plunge that happened today, erased all the gains and supports and ETH fell all the way down to the Fib786 and $237 level at one point. It is right above that height right now.
Trading volume has been steadily picking up for the last 30 days – reported volume in the last 24hrs was $7.4b (the strongest volume day in April for ETH was April 3rd with $10.6b), but "Real 10" (trading volume on the exchanges that provably prevent wash trading) volume is 26x lower – $281m. This means that ETH's liquidity is massively inflated even though it is still among the most liquid coins on the market, trailing only bitcoin and BNB.
Moreover, ETH has an average buy support, according to coinmarketbook.cc. Buy support is measuring sum of buy orders at 10% distance from the highest bid price. This way we can eliminate fake buy walls and whale manipulation and see the real interest of the market in a certain coin. ETH currently has a $60m of buy orders measured with this method, which sets ETH buy support/market cap ratio at 0.35%, a wide-market average. This novel metric indicates there are a lot of manipulations, inflated liquidity and fake orders on all crypto trading pairs, including ETH pairs.
Onchain metrics
All onchain metrics are nearing their all time high values as shown on the charts below, that display transaction count and active addresses growth:
As for the dapp ecosystem, it is slightly slanting upwards but overall growth is still modest. User numbers and number of dapps are marginally higher than in the beginning of the year. Transaction number and value transferred in USD are also trending upwards but with lots of oscillations.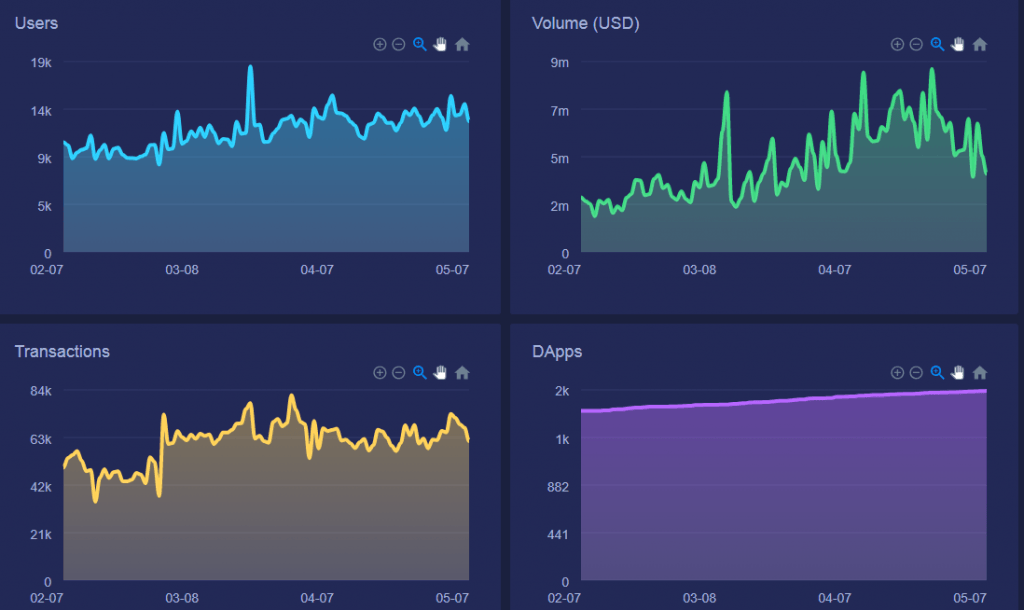 Social Metrics
Ethereum's market sentiment score, measured by the market analytics firm Predicoin, paints a neutral picture, with increasing shade of positivity.

Predicoin wraps its analysis up into a single simple indicator known as the SentScore, which is formed from the combination of five different verticals: news, social media, buzz, technical analysis and fundamentals.


Ethereum currently has a Sentscore of 6.1 which is defined as "somewhat positive zone". You can see that all social metrics have increased, Reddit and Twitter curves are both pointing north. Search volume has increased and consequently, Sentscore has significantly improved in the last 30 days.

Overall, Predicoin's Sentscore is an excellent indicator of community interest and can provide useful insight into which coins are trending right now.
Mid May Update: Fundamentals
Ethereum has been the highest ranked project, graded as S category – superb with overall 924 points as of May 6th. By far the strongest metric that contributed to this great score is developer activity that got 969 points, followed by user activity with 909 and market maturity that had 709 points. This is a data backed claim that Ethereum is fundamentally one of the soundest projects in the whole cryptocurrency world.
Elon Musk has sparked crypto twitter into a frenzy over the last couple of hours as he took to Twitter to tweet out just the word "Ethereum". After sending out the Tweet to his 26 million followers, he managed to get over 60,000 likes and 3,000 comments back to his one-word tweet. The market reacted with a sharp 3% increase in Ethereum price. Ethereum founder Vitalik was quick to reply with an invitation for Musk to attend the next Devcon in October, with Musk replying back to laugh at the fact that Buterin should first "stop giving away free ETH".
Status team that works on the next gen of Ethereum has released another Nimbus Development Update covering couple of topics: Ethereum 1.0 syncs up to Byzantium, basic Whisper support added, Season of Docs application, and grandiose plans for DeVcon.
Ethereum developers announced that funding has been approved to audit the hotly-contested code change known as Progressive Proof-of-Work or ProgPoW. The aim of this audit, as stated by Ethereum Foundation community relations manager Hudson Jameson in a past blog post is to examine "the expected effect of ProgPoW on the security of ethereum," as well as on ethereum's mining landscape as a whole. The proposed code change would essentially make it more difficult for specialized hardware to mine on ethereum, which would effectively box out the ecosystem's graphics card (GPU)-based industry. Estimates show that mining rewards gained on the the $16 billion dollar blockchain presently are about $700 million annually.
Most active project in the Ethereum ecosystem was definitely Brave Browser and BAT token – officially launching Brave Ads and onboarding big sites to their platform on daily basis.
PoS testnet has been launched at the beginning of the month as the whole network inches closer to the big consensus switch from proof of work to proof of stake.
The network is constantly at 90%+ of its capacity as the activity creeps back up to the late 2017, early 2018 levels. Both active addresses and transaction on-chain volume are steadily increasing since the summer of 2018. There were 254k active addresses and $596 million of value transacted on April 25th. That is 10k active addresses and almost $200 million more than on the same date last month.
Dapps number keeps growing and we now have 1737 dapps on ethereum, 190 more than in January. However, user numbers are stagnating and float around 12k daily users. Daily transaction volume and number of transactions of dapps on Ethereum are regularly dwarfed by the competing platforms like EOS and Tron. It is worth noting, though, that the majority of top-shelf developers are still building on ethereum, rather than on its competitors. Eos and Tron are plagued by low-quality gambling and gaming dapps while ethereum is hosting some of the very promising and ground-breaking dapps like MakerDao, Compound, Dharma and other dapps from the burgeoning decentralized finance sector.
Below is our long-term forecast where we cover general market movements and sentiment shifts before delving deeper into the specific predictions for ETH.
Year in Review
Even though the price dropped almost 90 percent, Ethereum was still one of the most active and vivacious projects in 2018 as it has seen increase in developer interest, expansion of the developer pool, incremented growth of useful dApps regulatory certainty, and institutional interest indicating that Ethereum is anything but dead.
There's no doubt the 2018 bear market has been vicious, as ETH lost over 92% of its value but has recovered somewhat from the yearly low that went below $100 at one point.
Higher Transaction Volume
The Ethereum blockchain has seen growth of active addresses and on-chain transaction volume in 2018, which are both good proxies to measure adoption. The number of unique Ethereum addresses broke the 50 million mark, and the rate of unique address creation has increased in 2018 as well.
Starting in March 2018, the network stabilized at around 50 million ETH transacted per month, and has fluctuated nominally month-to-month since.
Bitcoin wasn't the only cryptocurrency to garner attention from the world of traditional finance. Fidelity Investments is launching an institutional platform for Bitcoin and Ethereum and the investment company currently provides financial services for $7.2 trillion in assets.
While CBOE is expected to adopt Ethereum in 2019, Coinbase has already adopted ERC-20 tokens with almost gay abandon over the last couple of months.
Approximately 200k smart contracts were created and deployed in June since the start of 2018, and that number has grown to more than 1 million in October and nearly 1.8 million deployed in 2018 to date. This is an increase of nearly 25% year over year. The number of successful calls to smart contracts has remained consistent at 1.2 million per day when compared to 2017.
Click here for XRP Price Prediction for 2019 and Beyond
Interest in the Ethereum community is growing in general as well. Reddit's community has grown to more than twice its 2017 size, from 176k in early December 2017 to 418k in early December 2018, and several telegram communities have more than doubled their users as well.
Without fail, the Ethereum blockchain remains the most robust smart contract platform in existence. Of the top 100 tokens by market cap, 96% are built off Ethereum. Of the top 1000 tokens, 89% are built off Ethereum
ETH Roadmap for 2019
Ethereum has unveiled a "new" roadmap called Ethereum 2.0.
Some of the major updates that will be included in Ethereum 2.0 will be:
Sharding
Proof Of Stake & Beacon Chain
eWasm.
Another pivotal milestone on the Ethereum roadmap was the Constantinople Hard Fork that successfully went live at the end of Febraury. The Ethereum team has had three major roadmap milestones laid out for them since 2016:
Byzantium
Constantinople
Serenity
Each of these milestones laid the groundwork for eventually moving to Proof OF Stake (Serenity). Byzantium provided the much needed security. And Constantinople is laying the pieces to allow the transition to Serenity (Casper V2).
There will be 5 main EIP (Ethereum Improvement Proposal) introduced in Ethereum 2.0.
#1. EIP 145: This introduces bitwise shifting, as EVM opcodes. This more efficient way of coding can reduce the cost of gas and number of instructions required.
#2. EIP 1052: Optimization of large scale code execution.
#3. EIP 1283: This is based on EIP 1087 and introduces a pricing method for storage to developers.
#4. EIP 1014: This is Vitalik Buterin's upgrade proposal for a scaling solution that is based on state channels and "off-chain" transactions.
#5. EIP 1234: This reduces the block mining reward from 3 ETH down to 2 ETH. This will also delay the "difficulty bomb" for 12 months.
General Market Movements and Sentiment Shift
The downfall of altcoins that were mainstream media darlings at the start of the year, can be attributed, in part, to novice investors getting scared off once the bear market kicked in with a vengeance. Every resurgence of bitcoin in recent period, was met with the, for the most part, inability of altcoins to rally with it. Reason for that can be rookie investors learning from their mistakes, while smart money that was previously watching from the sidelines has begun to enter into bitcoin.
What are the most undervalued cryptocoins in the market right now?
These entities weren't about to buy BTC when it was trading at an all-time high, but they'll take a look now, having missed the boat the first time around. None of them, it seems, are interested in altcoins however, despite the fact that many are trading at a 5x discount. Institutional investors may be cautious, but they're not foolish.
Some altcoins will continue to have some speculative value for the foreseeable future. But just like the now infamous tulips, the hysteria will eventually subside. We are already witnessing the first phases of that slide and even though most of the bag holders react emotionally to articles that criticize their coins, I am just observing the developments on the market. You better start emotionally detaching yourself from your "great sounding" coin because if goes nowhere, ideas are worthless without execution and real users that see value in the project.

Our ETH Price Prediction for 2019
ETH, as the rest of the market, is tied at the hip of bitcoin's price action. If bitcoin embarks on another bull run, ETH can hope for one as well. Since that is very unlikely, don't expect much to change for ETH price-wise in this year. So 2019 will be a year of boring sideways action with minor bitcoin ignited jumps and slumps.
In general:
The main currency in cryptocurrency markets is Bitcoin and given this, altcoins tend to fuel Bitcoin runs and Bitcoin tends to do the same in return. Given this relationship, Bitcoin price movements (or lack thereof) tend to effect altcoin prices.
When Bitcoin goes up swiftly, it will likely:
Suppress or depress altcoins as money flows into Bitcoin;
Or, take altcoins along for the ride
In cases when Bitcoin plunges, it will likely:
Depress altcoins as money flows into fiat;
Or, cause altcoins to boom as money flows into them, but this is rarely the case.
When Bitcoin moves sideways, it will likely:
Cause altcoins to mimic that as traders wait for a clear sign on the direction of the market;
Or, cause altcoins to flourish as traders look for returns in altcoins and try to get favorable trades in terms of BTC pairs.
To summarize, Bitcoin is the focal point of the crypto market in many ways, and with BTC trading pairs on every exchange, the gravity of Bitcoin is hard to evade.
What are the best Ethereum wallets?
The majority of projects will fail — some startups are created just to gather funds and disappear, some would not handle the competition, but most are just ideas that look good on paper, but in reality, are useless for the market.

Vitalik Buterin, co-founder of Ethereum said:
"There are some good ideas, there are a lot of very bad ideas, and there are a lot of very, very bad ideas, and quite a few scams as well"

As a result, over 95% of successful ICOs and cryptocurrency projects will fail and their investors will lose money. The other 5% of projects will become the new Apple, Google or Alibaba in the cryptoindustry. Will ETH be among those 5%?

Very high probability of that happening.

Ethereum has an order of magnitude more developers building on it than any other platform — and this gap is widening by the day. That means if another blockchain platform wants to beat Ethereum in terms of developer adoption, it's not enough for it to catch up to where Ethereum is now — it has to exceed Ethereum's growth rate moving forward. If you don't have developers building applications on your blockchain, you're effectively building a ghost town.


The blockchain platform that has the most developers building real-world applications on top of it will be the platform that gains the widest mainstream adoption. And not only does Ethereum have a massive head start in this area, but the gap is widening with each day that passes.

Ethereum has better tools and infrastructure for DApp development than any other platform. Truffle. Infura. Web3.js. OpenZeppelin. Geth. Ganache. MetaMask. CryptoZombies. MyCrypto. Etherscan. ERC20 and ERC721.
These are tools (among many others) that different developer teams have tirelessly poured hundreds of thousands of hours into — and they're free to use for any Ethereum developer who wants to build a DApp on Ethereum.

All of this summed up sets ETH apart from any of its numerous "killers" like EOS, NEO, ADA, TRX etc.

Market prediction for ETH Price 2019
With the market being completely unpredictable, forecasting the cryptocurrency price is really more of a gamble and luck rather than a data driven guesstimate.
See Ethereum's Live Value Today!
Let's throw a glance at the eminent publications and personalities, and their predictions regarding the Ethereum price, which will give us another point of view to consider:
Nigel Green Ethereum Price Prediction
The deVere group, one of the leading International Financial consulting firms' CEO Nigel Green, predicted that Ethereum would reach more than $2500 by 2019. He stated three reasons for ETH price increase- more platforms used for trading and more demand for digital currencies, increased use of smart contracts and the decentralization of cloud computing.
Aayush Jindal
The current technical structure will remain negative as long as the price is below $515, but a successful 2-hour close above this level may perhaps decrease the current bearish pressure and open the doors for a fresh upward wave. On the flip side, the recent low of $477.31 may act as a decent support, the next buy zone being around $450. Overall Ether could consolidate in the short term, but it remains at a risk of more losses until there is a break above $515.
Trading Beasts Ethereum Price Prediction
According to the website, Trading Beasts, the price of Ether might reach $908 by the end of 2019, the average price might revolve around $650. That was a very optimistic price prediction for Ethereum.
Wallet Investor
Walletinvestor is a popular website that does technical analysis-based price predictions of various cryptocurrencies. According to them, ETH is expected to go down to $15 in one year. This price prediction is very skeptical and probably inaccurate as the current price is a whole order of magnitude greater and ETH would need to totally implode to drop that heavily.

Ian McLeod Ethereum Price Prediction
Ian McLeod, an influential technology expert of Thomas Crown Art predicts that Ethereum might reach something more than $500 by 2019 as it might experience a global and monumental breakout. He mentions that BTC might lose 50% of its crypto market share to ETH in 5 years or so.
Cryptoground
Cryptoground predicts that ETH might reach $335 by the end of 2019. They even added their version of RDD price prediction 2024, where they stated that RDD might reach $1471 by 2024.
DigitalCoinPrice
Digitalcoinprice gave a very positive prediction saying that by 2019 end, ETH might be 3x more valuable than now – $304 per coin.

ETH Future: 2020, 2023, 2025
[wpsm_accordion] [wpsm_accordion_section title="ETH Price Prediction 2020″]Having a huge brand recognition in one of the most reasonable applications of blockchain – dapps platform, ETH is positioned optimally to stay a top cryptocurrency, right behind bitcoin. With a potential bitcoin-induced bull run, reaching the previous all time high of $1400 is achievable.[/wpsm_accordion_section] [/wpsm_accordion] [wpsm_accordion] [wpsm_accordion_section title="ETH Price Prediction 2023″]If ETH maintains its relevance in the industry and manages to stay ahead of their competition, which is very likely, it might be worth 10-100x than its hitherto all time high.[/wpsm_accordion_section] [/wpsm_accordion] [wpsm_accordion] [wpsm_accordion_section title="ETH Price Prediction 2025″]Again, If TH maintains its relevance in the industry and manages to stay ahead of their competition, it will surely be 100x+ more worth than now.[/wpsm_accordion_section] [/wpsm_accordion] [wpsm_accordion] [wpsm_accordion_section title="Realistic ETH Price Prediction "]Predicting prices of novel, highly volatile and risky asset classes is a thankless task – best answer is no one knows. Educated guess is that realistic ETH price for the foreseeable future is somewhere between its current price and its all time high.[/wpsm_accordion_section] [/wpsm_accordion]